Matab-ang Livelihood Project Association Inc. is working strongly to fulfil its mission and vision that boils down to, "to help people help themselves". It has launched its first 2 programs, Skills Development and Enterprise Development two years ago. And over the years, these programs has helped 110 members by providing them free skills training and loan assistance that they used in finding a job and in putting up their own businesses.
Recently, 16 of its members participated on the Meat Processing Training held at MALIPAI training centre, headed by Ms. Grace Jorbina. The goal of this training is to let the participants learn the process in making Chorizo Hamunado, Embutido and Tocino and hopefully could help them in their frozen food business.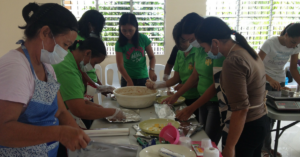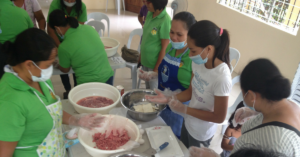 "This is such a big help for me because I only buy & sell the frozen foods, so the profit is not that high. But now that I learned the process in making them and the packaging as well, I am confident that my profit will increase as this time, I can do it myself." – Evelyn, one of the participants
Participants are sellers of frozen food products, thus, this training will help them in improving their business and their products as well. From buying and selling frozen foods, now they themselves can make it on their own.
If you got some skills and a willing heart, you can also help our members by providing them Skills Training that could improve their business or will help them venture a new business and even give them an edge in finding a job. Contact us and we will be more than happy to accommodate.