"The purpose of life is not to be happy. It is to be useful, to be honorable, to be compassionate, to have it make some difference that you have lived and lived well," Ralph Waldo Emerson once said.
This entails that helping, in one way or another, is somehow showing love.
However, lending someone a hand for a day does not give security that he/she will survive for a lifetime.
As we all know, poverty dramatically changed our lives.
Due to economic deficiency, many children and even youth were forced to engage in hard labor and unfortunately place their studies on halt.
Because of such factor, a young individual sees a blur future; wherein instead of having a hope to raise his/her status someday, he/she has settled of having the same kind of life.
And one way of raising the person's condition is through education.
Education plays a vital role in the holistic development of a person.
Education does not only enrich the cognitive feature of a person. It also helps to nurture the psychosocial, emotional, behavioural, and spiritual phase of an individual.
For the last three years, MALIPAI has been profound in helping street children enhance their intellectual capacities through its program, "Street Kids Tutorial."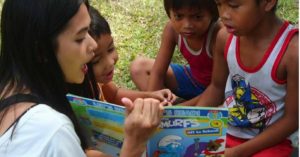 It was in December 2016 when MALIPAI started its first tutorial wherein street kids aged 5 to 18 years old, living along the Bacolod City Plaza were taught the basic of Mathematics, English, Reading, Writing, Arts and Values Formation every Saturday.
The tutorial was made possible by the effort of MALIPAI as well as the scholars who volunteered to teach the children.
Kathea Bolivar, one of the scholars of MALIPAI said that "one of the benefits, aside from free access to education that I gained from MALIPAI, is the opportunity to impart my knowledge to less privileged kids."
According to Elona Jane Ravello, a scholar, "the program is essential because it does not only help improve the academic aspect of children but also boost their morale."
"I'm glad that I was able to experience being a teacher because it taught me how to be more patient and develop the kind of heart that always wanted to help the less fortunate," Richard Garcia, a scholar, said.
The impact that the Street Kids Tutorial have done unto the lives of the scholars is beyond imaginable.
It depicts the power of helping; how it transforms into love.
This cause is also attributed to all who have been part of it especially to Australian Donors,  the supportive staff of MALIPAI, parents and to name a few.